Product Description
Specification
Manufacturing Technique
Product Display & Application
Product Tags
316 Stainless Steel Sheet/Plate (UNS S31600) and 316L Stainless Steel Sheet/Plate (UNS S31603) are molybdenum-bearing austenitic stainless steels, which are more resistant to general corrosion and pitting/crevice corrosion than the conventional chromium-nickel austenitic stainless steels such as Alloy 304. These alloys also offer higher creep, stress-to-rupture, and tensile strength at elevated temperatures. In addition to excellent corrosion resistance and strength properties, the Alloys 316 and 316L Cr-Ni-Mo alloys also provide excellent fabricability and formability which are typical of the austenitic stainless steels.
316 grades contain a higher level of Nickel than 304 giving it an improved corrosion resistance over 304 grades.
Hunan Great Products maintains an extensive inventory of stainless steel flat-rolled products, including stainless steel plate, stainless steel sheet, diamond plate, 2B & 2D stainless steel sheet, stainless steel polished sheet, stainless steel flat & expanded sheet, and perforated stainless steel sheet.
Learn more about our plate products and our plate processing technologies. By combining our large selection of heavy gauge plate with our extensive range of processing services for thicker plate and over 30 years of technical knowledge, Hunan Great Steel Pipe Co,.Ltd is uniquely positioned to save the customer overall cost by providing a solution that best meets your needs.
---
Previous:
310 Stainless Steel Sheet
---
316 / 316L Stainless steel sheet

/plate

Grade:
316 316L
Surface finish
2B ,2D, BA,No.1 ,No.3 ,No.4, No.5 ,No.8 ,8K,HL.etc.
Standard
ASTM, AISI,JIS, DIN,EN,GB
Thickness
Cold rolled 0.3 to 3mm
Hot rolled 3mm to 60mm or as customer's request
Width
1m,1219mm,1.5m,1.8m,2m or as customer's needs
Lehgth
As customer's needs.
Lead time
Stock or 7–15 days according to quantity
Chemical Composition: ASTM A240, A666
Element
Type 316
Type 316L
Carbon
0.08 max.
0.030 max.
Manganese
2.00 max.
2.00 max.
Sulfur
0.030 max.
0.030 max.
Phosphorus
0.045 max.
0.045 max.
Silicon
1.0 max.
1.0 max.
Chromium
16.0–18.0
16.0–18.0
Nickel
10.00–14.00
10.00–14.00
Molybdenum
2.00–3.00
2.00–3.00
Nitrogen
0.10 max.
0.10 max.
The internationally recognized crossover thickness between what is referred to as sheet and plate is 5.0mm. This is specified in ASTM A480M. Therefore, sheet is thickness less than 5.0mm and plate is 5.0mm and over.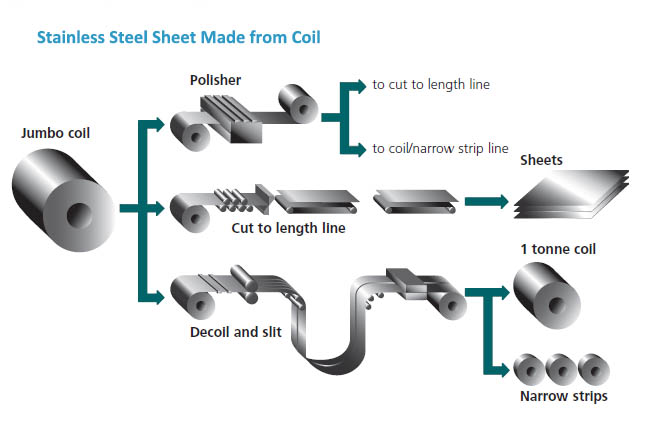 Stainless Steel Sheet made from Steel Coil: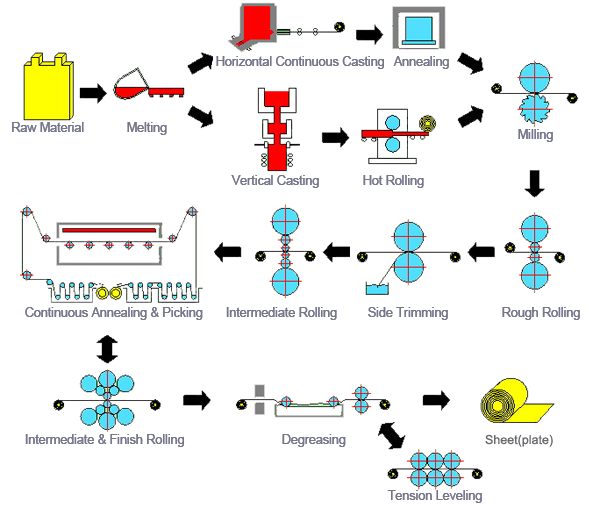 Differences Between Hot Rolled and Cold Rolled:
Cold rolled stainless steel sheet has more accurate dimensional tolerances than that of hot rolled. Unless taking subsequent pickling or descaling treatment, hot rolled stainless steel sheet comes with a rough grey finish while cold rolled has a shinny whitish surface finish. From an economic view, cold rolled stainless steels are more expensive than hot rolled ones. Hot rolled has better ductility and malleability while cold rolled is harder and has more strength.