Product Description
Specification
Manufacturing Technique
Product Display & Application
Product Tags
321 stainless steel sheet /plate and 321H stainless steel sheet/ plate are basic austenitic materials. These grades are stabilized by the addition of Titanium. These grades are often utilized for applications in temperatures up to 1,650 ℉. These grades of plate combine high strength, resistance to scaling, and phase stability, with resistance to subsequent aqueous corrosion. 304L plate is more readily available in most product forms, and so is generally used in preference to 321 or 321H if the requirement is simply for resistance to intergranular corrosion after welding. However, 304L has lower heat strength than 321 and 321H plate and so may not be the best choice if the requirement is resistance to an operating environment over about 932 ℉.

These plate grades are typically available for purchase in sizes between 0.188" to 2.0". Other thicknesses are available as well; consult with a member of the Hunan Great Stainless team. It is also available for purchase in a variety of lengths and widths.
---
Previous:
316 Stainless Steel Sheet
---
| | |
| --- | --- |
| 321 | 321H |
| UNS S32100 | UNS S32109 |
| ASTM A240 | ASTM A240 |
| ASTM A480 | ASTM A480 |
| ASME 240 | ASME 240 |
Chemical Analysis
Weight % (all values are maximum unless a range is otherwise indicated)
| | | |
| --- | --- | --- |
| Element | 321 | 321H |
| Chromium | 17.00 min.-19.00 max. | 17.00 min.-19.00 max. |
| Nickel | 9.00 min.-12.00 max. | 9.00 min.-12.00 max. |
| Carbon | 0.08 | 0.04 min.-0.14 max. |
| Manganese | 2 | 2 |
| Phosphorus | 0.045 | 0.045 |
| Sulfur | 0.03 | 0.03 |
| Silicon | 0.75 | 0.75 |
| Titanium | 5 x (C + N) min.-0.70 max. | 4 x (C + N) min.-0.70 max. |
| Nitrogen | 0.1 | 0.1 |
| Iron | Balance | Balance |
The difference between 321 and 321H grades lies in the amount of carbon contained within each metal. 321 has at most 0.08% while 321H contains between 0.04% and 0.10% carbon. They both contain at most 2.0% manganese, 0.75% silicon and 0.045% phosphorous. This grade is also made up of at most 0.03% sulfur, between 17.0% and 19.0% chromium, and at most 0.10% nitrogen. The addition of titanium is what gives 321 and 321H stainless steel plate its unique properties. It can also include up to 0.70% titanium.
The internationally recognized crossover thickness between what is referred to as sheet and plate is 5.0mm. This is specified in ASTM A480M. Therefore, sheet is thickness less than 5.0mm and plate is 5.0mm and over.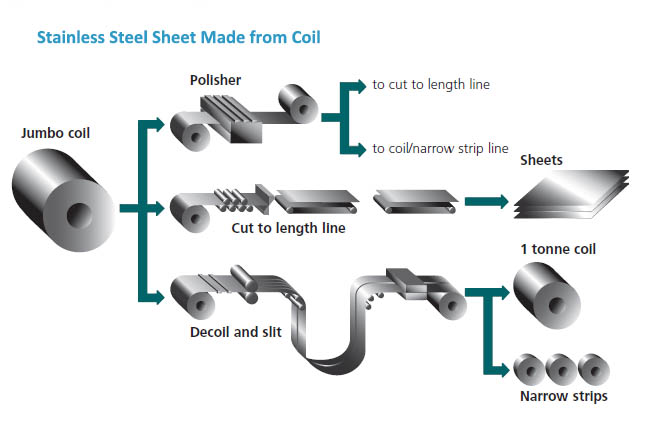 Stainless Steel Sheet made from Steel Coil: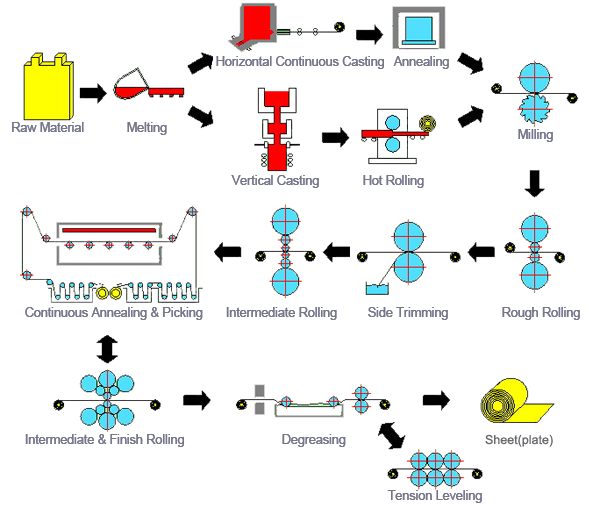 Differences Between Hot Rolled and Cold Rolled:
Cold rolled stainless steel sheet has more accurate dimensional tolerances than that of hot rolled. Unless taking subsequent pickling or descaling treatment, hot rolled stainless steel sheet comes with a rough grey finish while cold rolled has a shinny whitish surface finish. From an economic view, cold rolled stainless steels are more expensive than hot rolled ones. Hot rolled has better ductility and malleability while cold rolled is harder and has more strength.

There are many uses for these grades of stainless steel plate, especially in environments which require higher temperatures. These grades of stainless steel plate are commonly used in heat exchangers, bellows, expansion joints, heating element tubing, spiral welded tubes for burner pipes and flues, as well as furnace parts. This grade of stainless steel plate also has applications in woven or welded metal screens for use in high temperature mineral processing. It also has applications in the aerospace industry, specifically in aircraft exhaust and piston engine manifolds. These grades are useful in chemical and food processing industries, specifically in equipment and storage. Petroleum refining, and the chemical industry and in waste treatment processes, are also good applications for these grades. They are more commonly used in Europe than in North America.
● Aircraft exhaust manifolds
● Expansion joints
● Furnace parts
● Heat exchangers