Product Description
Specification
Manufacturing Technique
Product Display & Application
Product Tags
Socket Weld flanges were initially developed for use on small-size high pressure piping.Socket weld flange simplified as SW flange, it has a recessed area (like a shoulder) in the flange bore, this shoulder serves as a guide to set the depth of the pipe that inserted to the flange.
Their static strength is equal to Slip On flanges, but their fatigue strength 50% greater than double-welded Slip On flanges.
Details of Socket Weld Flange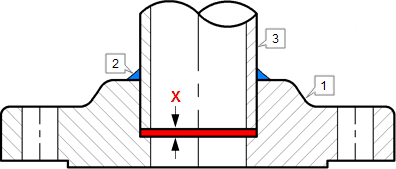 1.Socket Weld flange 2.Filled weld 3.Pipe X = Expansion gap
Socket Weld Flanges are used for small-size and high-pressure piping that do not transfer highly corrosive fluids.This due to the fact that these flange types are subject to corrosion in the gap area between the end of the pipe and the shoulder of the socket.
---
Previous:
Slip On Flange
Next:
Threaded Flange
---
Product:
Socket Weld Flange
Dimension Range:
1/2" to

48

" (

1200NB

)
Rates/SCH:
150# – 300# – 600# – 1500#
Materials:
ASTM A182 F202, F304/304L/304H, F316/316L, F316H, F316TI, F310, F321, F904Letc.
Standards:

ANSI B16.5, ANSI B16.47 Series A & B, MSS SP44, ASA, API-605, AWWA, Custom Drawings

Our Strength

Fast Delivery
Various Materials
Full set of swivel ring flange, including gaskets and bolts
Customized fabrication available
Package supplying of piping materials
Overlay process
Third party inspection available
Notes:
①The material above is for your reference only. The actual inquiry will consider order quantity and delivery time.
②If didn't find your material here, you are kindly requested to make a specific enquiry to: info@hunantube.com.
Advantages:
● Socket weld flange could replace threaded flange, to minimize the risky of leakage.
● No need to beveling before welding.
● Welding work outside of the pipe, will not penetrate the pipe bore
● It is recommended for applications where internal welding operations are particularly difficult. This sock welded construction eliminates internal pockets while avoiding warpage of welding heat and damage to the flange face caused by weld spatter. It has the same internal pressure as the sliding on the flange, and has a better fatigue life.
Disadvantages:
● Socket welded flange requires higher skills for welder, which the welding need to make sure that the expanding gap between the pipe and shoulder is 1/16 inch.
● The expansion gap create the chances for the crack defects, especially for anti corrosive pipes as stainless steel pipes, so the cracks between the pipe and flange will cause the corrosive problems. So SW flange will not be compatible with corrosive or radioactive environment, as this solid buildup at the joint can cause operational and maintenance problems. So that's why people use but welding more often as the welding completely through the pipe from outside to inside, which makes the connects more strong and anti corrosive