Product Description
Specification
Manufacturing Technique
Product Display & Application
Product Tags
Introduction of Stainless Steel Coil
Since its inception in 1993, HUNAN GREAT has been at the forefront as a specialized stainless steel coil service center by providing solutions to the industry for over three decades.
The hot rolled stainless steel coil and the cold rolled stainless steel coil are excellent materials for cutting edge applications such as in transport, construction, shipbuilding, medical equipment, construction materials, and kitchen utensils.
With a wide variety of choices, buyers may choose coils with different thicknesses, widths, and stainless steel grades. These critical physical variables are crucial factors, so you may make the optimal decision based on your processing requirements.
---
Previous:
Stainless Steel Plate
Next:
Stainless Steel Strip
---
Grade:
AISI 304, AISI 304L, AISI 430, AISI 316L, 202, 201, AISI 301, AISI 409L
Surface:
2D, 2B, BA, NO.1, NO.3, NO.4, HL, HairLine, NO.8 (MIRROR), Ethching.
Thickness:
Cold-Rolled 0.1mm~3.0mm Hot-Rolled 3.0mm~50mm
Width:
1000MM, 1219MM, 1250MM, 1500MM, Max 1524mm (5ft)
Length:
2000MM, 2438MM, 2500MM, 3000MM, Max 6000mm
We Can Slit Different Width And Cut Different Length By Custom Made.
What are the surfaces of stainless steel coils? We mainly introduce the surface of stainless steel coils for industrial use.
The most important ones on the market are NO.1, NO.2D, 2B, BA, HL.
| | | | |
| --- | --- | --- | --- |
| Name | Processing type | Surface Condition | Remarks |
| No.1 | Hot rolling, heat treatment, pickling | No scale | The method of mechanical descaling (coarse grinding or shot peening), the surface roughness is 0.3~0.6μm. |
| NO.2D | Cold rolling, heat treatment, pickling or descaling | The surface is uniform and matt | Heat treatment and pickling after cold rolling. The matt surface is produced by pickling or descaling. It can be smoothed with a rough roller. The rough surface processing facilitates the retention of lubricant on the surface of the steel plate during deep drawing. This kind of surface is suitable for processing deep-drawn parts, but these parts need to be polished after forming, and the surface roughness is 0.3~0.6μm. |
| 2B | Cold rolling, heat treatment, pickling or descaling, bright processing | Smoother and straighter than 2D surface | On the basis of the 2D surface, the steel plate after heat treatment and descaling is smoothed with a small reduction amount with a polishing roller. It is the most commonly used surface processing. Except for extremely complex deep drawing, it can be used for any purpose. The surface roughness is 0.10~0.25μm. |
| BA | Cold rolled, bright annealing | Smooth, shiny, reflective | After cold rolling, bright annealing is performed in a controlled atmosphere furnace. Generally, dry hydrogen or a mixed atmosphere of dry hydrogen and dry nitrogen is used to prevent oxidation during annealing. It is also a commonly used surface processing for subsequent processing. |
| HL | Cold rolling, pickling, leveling, grinding | Continuously rubbed | Polish the surface with an abrasive material of appropriate size to make the surface continuous. |
Stainless steel coils are divided into austenite, ferrite, martensite, dual-phase (ferrite-austenite) cold rolled coils, and hot-rolled coils. In order to ensure that the mechanical properties such as yield strength, tensile strength, elongation, and hardness of various stainless steel coils meet the requirements, the stainless steel coils must undergo annealing, solution treatment, aging treatment, and other heat treatments before delivery.
Hot-Rolled Steel Coils Manufacturing Processes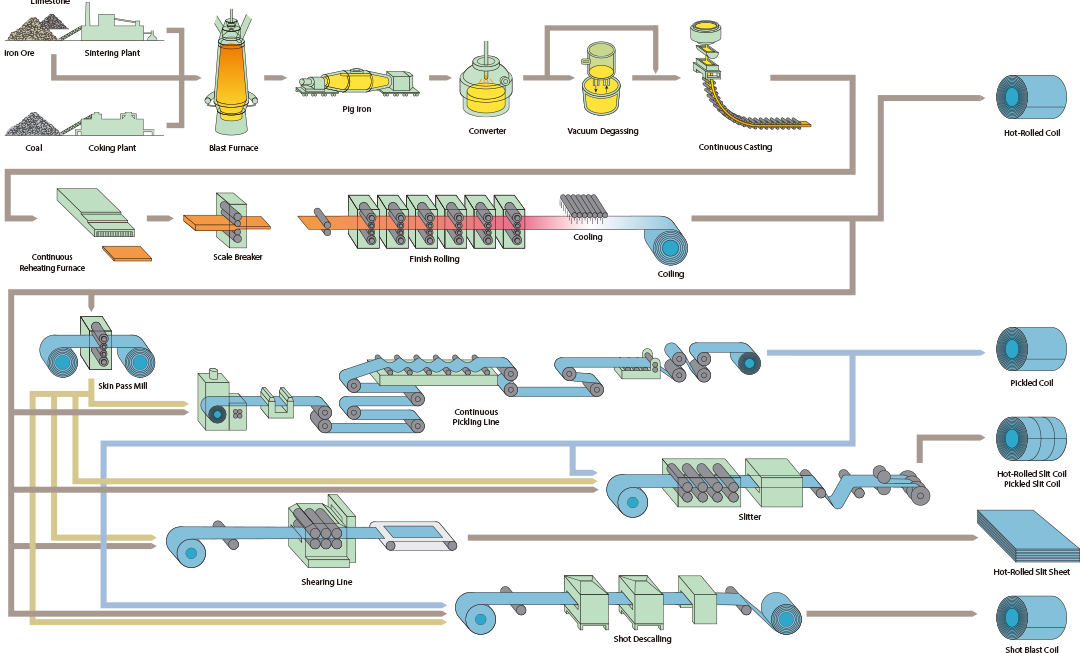 Cold-Rolled Steel Coils Manufacturing Processes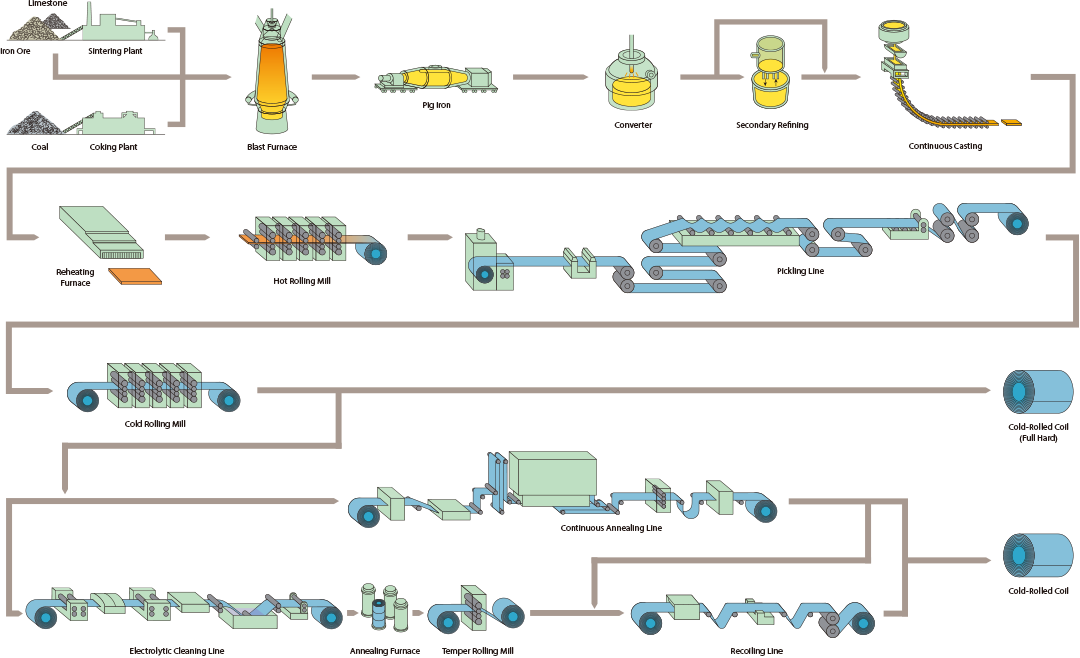 Hunan Great provides professional stainless steel coil services, such as high-quality raw materials, mechanical solutions, suggestions for good alternative products, and complete experimental data reports.Our coil is widely used in construction, surgery, kitchen essentials, etc.

If you need an excellent stainless steel coil supplier to help you stabilize the stainless steel raw material supply chain, Hunan Great may be the answer for you. With more than 29 years experience of production, we are able to provide with a very competitive price of stainless steel coils. Get a quick quote now and reduce the cost of stainless steel coils.