Product Description
Specification
Manufacturing Technique
Product Display & Application
Product Tags
Stainless steel elbow is used to change the flow direction in the pipe. According to its angle, the most commonly-used ones are 45°, 90° and 180°. And in some engineering projects, 60° elbow or other unconventional angle elbow are also required.
We have a large inventory of ss elbow to meet your required piping specifications, there are many available sizes to choose from, the finish of ss elbow will be mirror, satin finish or others upon requirement, we are ss elbow factory.


Packing Requirements of Elbow
For those elbows or pipe fittings without special packing requirement, if their size is 2" or below, we usually seal with plastic and then put them into plywood case. However, for the elbows of large size, we normally pack with pallets and give a protection for the beveled end. As for the pallets number, it will depend on the actual size of elbow. Undoubtedly, we will also mark the details in the packing, not limited to the size, materials, trademark, etc. We can also do color labeling for products according to customer requirements, so that they can rapidly distinguish the materials when the products arrive.
---
Previous:
OLets Pipe Fitting
Next:
Stainless Steel Cap
---
Seamless Elbow: 1/2″-24″ DN15-DN600.
Welded Elbow: 4″-72″, DN150-DN1800.
Wall Thickness: sch10, sch20, sch30, std, sch40, sch60, xs, sch80, sch100, sch120, sch140, sch160, xxs, std, sch5s, sch20s, sch40s, sch80s.
Maximum thickness: 120mm.
Product Range
Outside diameter 1/2″-72″ DN150-DN1800.
Wall thickness 2mm – 120mm.
Bending radius R=1D – 10D.
Product angle 0 – 180.
What Material We Do
| | |
| --- | --- |
| Material | Grade |
| Stainless Steel | AISI 304, 304L, 316, 316L, 316Ti, 317L, 321, 321H, 347, 347H, 904L, 254 SMO (W1.4301, 1.4306, 1.4948, 1.4401, 1.4404, 1.4571, 1.4438, 1.4541, 1.4878, 1.4550, 1.4845, 1.4539, 1.4547 etc.). |
Available Standard of Stainless Steel Elbow

● ASME B16.9, MSS SP-43
● EN 10253-4, EN 10253-3
● ISO 05251
● GOST 1717375
● JIS B2311/2312/2313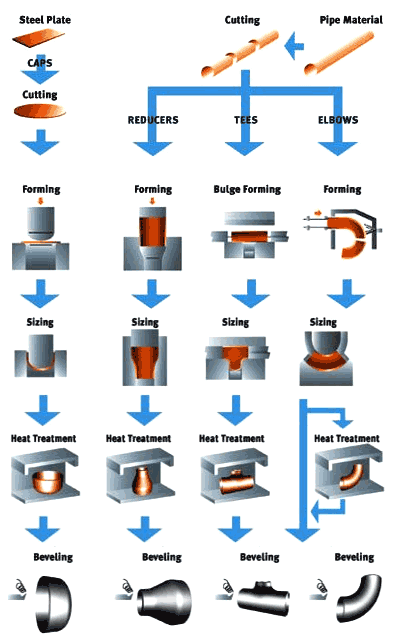 Seamless Elbow Manufacturing Process (Heat Bending & Cold Bending)
One of the most common methods for manufacturing elbows is using hot mandrel bending from straight steel pipes. After heating the steel pipe at a elevated temperature, the pipe is pushed, expanded, bend by the inner tools of mandrel step by step. Applying hot mandrel bending can manufacture a wide size range seamless elbow. The characteristics of mandrel bending are strongly depend on the integral shape and dimensions of the mandrel. The using advantages of hot bending elbows include smaller thickness deviation and stronger bending radius than other bending method type. Meanwhile, using bending instead of prefabricated bends substantially reduces the number of welds needed. This reduces the amount of work required and increases the quality and usability of pipes. However, cold bending is the process to bent the straight steel pipe at normal temperatures in a bending machine. Cold bending is suitable for pipes with an outer diameter of 17.0 to 219.1 mm, and wall thickness 2.0 to 28.0 mm. The recommended bending radius is 2.5 x Do. Normally at a bending radius of 40D. By using cold bending, we can get small radius elbows, but we need to pack the internals with sand to prevent wrinkling. Cold bending is a quick and inexpensive bending method. It is a competitive option for making pipelines and machine parts.
Welded Elbow Manufacturing Process (Small & Large)
Welded elbows are made from the steel plates, so it is not seamless steel elbows. Use a mould and press the steel plate to the shape of the elbow, then weld the seam to be a finish steel elbow. It is the old production method of the elbows.  Recent years the small sizes elbows are almost manufactured from the steel pipes now. For the big size elbows, for example, it is very difficult to produce elbows over 36" OD from the steel pipes . So it is commonly made from the steel plates,  pressing the plate to the shape of half elbow, and welding the two halves together.  Since the elbows are welded in its body , the inspection of the welding joint is necessary . Commonly we use the X-Ray inspection as the NDT.