Product Description
Specification
Manufacturing Technique
Product Display & Application
Product Tags
Stainless Steel Sheet is a thin, flat piece of stainless steel with many applications. It is commonly used in the transportation, food, and aerospace industry due to its lightweight and resistance to corrosion. Stainless Steel Sheet is measured by its thickness (gauge).
We offer Stainless steel sheets with high quality and competitive prices. To provide our customers with the best service, buyers can choose various material grades on the basis of their process requirements. Hunan Great supplies a full range of thicknesses from 0.1mm to 3mm for cold-rolled stainless steel sheets and 3mm~50mm for hot-rolled stainless steel sheets. Available standard widths are 914/1000/1219/1250/1500/1524mm. Other special sizes of sheets and plates can also be made according to your specifications.
Moreover, Hunan Great is committed to providing suitable and strong packaging for when you buy your stainless steel sheets. Buyers may select the appropriate packaging for their shipment requirements according to their budget and delivery plans.
---
Previous:
Next:
Stainless Steel Plate
---
Product Name
Stainless Steel Sheet/Plate
Type
Cold Drawn or Hot Rolled
Thickness
0.1-300mm
Width
1000, 1219, 1500, 2000, 2500, 3000mm etc.
Length
1000, 1500, 2438, 3000, 5800, 6000, 9000, 12000mm etc.
Standard
ASTM JIS AISI GB DIN EN
Surface Finished
BA, 2B, NO.1, NO.4, 4K, HL, 8K
Application
It is widely used in high-temperature and electric industry, medical devices, construction, chemistry,food industry, agriculture,and ship components.It also applies to food and beverage packaging, kitchen supplies, trains, aircraft, conveyor belts, vehicles, bolts, nuts,springs, and screen mesh etc. .
Certification
CE, ISO, SGS, BV
Technique
Hot rolled or cold drawing
Edge
Mill Edge / Slit Edge
Quality
SGS Inspection
Grade(ASTM UNS)
201 202 301 304 304L 321 316 316L 317L 347H 309S 310S 904L S32205 2507 254SMOS 32760 253MA N08926 etc.
Grade (EN)
1.4301, 1.4307, 1.4541, 1.4401, 1.4404 ,1.4571, 1.4438, 1.4539, 1.4547, 1.4529, 1.4562, 1.4410, 1.4878, 1.4845, 1.4828, 1.4876,2.4858, 2.4819
Export Packing
Waterproof Paper, Steel Strip Packed and other Standard Export Seaworthy Package, or customized package

We Can Slit Different Width And Cut Different Length By Custom Made.
The internationally recognized crossover thickness between what is referred to as sheet and plate is 5.0mm. This is specified in ASTM A480M. Therefore, sheet is thickness less than 5.0mm and plate is 5.0mm and over.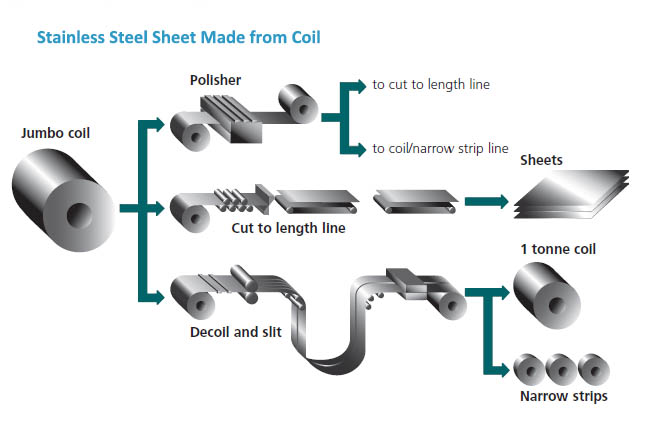 Stainless Steel Sheet made from Steel Coil: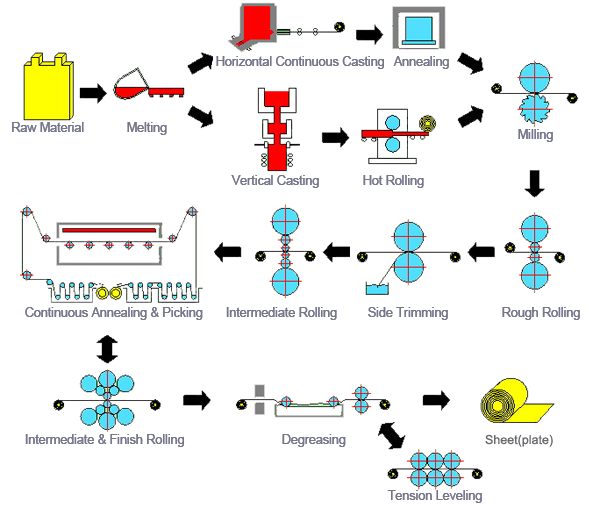 Differences Between Hot Rolled and Cold Rolled:
Cold rolled stainless steel sheet has more accurate dimensional tolerances than that of hot rolled. Unless taking subsequent pickling or descaling treatment, hot rolled stainless steel sheet comes with a rough grey finish while cold rolled has a shinny whitish surface finish. From an economic view, cold rolled stainless steels are more expensive than hot rolled ones. Hot rolled has better ductility and malleability while cold rolled is harder and has more strength.
Our large inventory of stainless steel sheet means we can offer custom sizes for most stainless steel grades.

Stainless steel sheet provide a low maintenance, corrosion resistance solution for a variety of industrial applications.In general, these stainless steel sheets are widely applied in projects, achieving wonderful industrial use for consumers all over the world.